100 Years of Alaska's Legislature
"From Territorial Days to Today"
---
---
Restructuring Permanent Fund Earnings.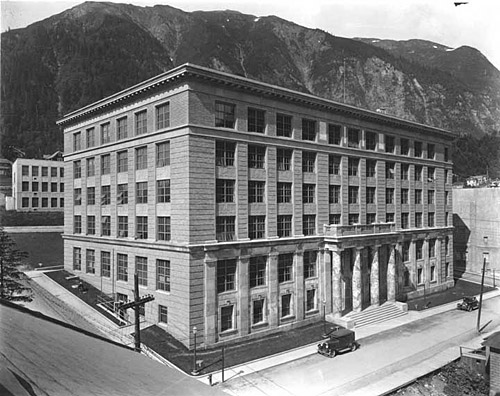 Session Information
1st Regular - January 17, 2017 - May 17, 2017
1st Special - May 18, 2017 - June 16, 2017
2nd Special - June 16, 2017 - July 15, 2017
3rd Special - July 27, 2017 - July 27, 2017
4th Special - October 23, 2017 - November 21, 2017
2nd Regular - January 16, 2018 - May 13, 2018

Total Legislative Days: 329
Bills Introduced: 628
Bills Passed: 145
Senate Members
House Members
Budget Issues Continue
The 30th Alaska Legislature was dominated by a handful of contentious issues, disagreed upon by the House Majority Coalition led by Democrats, which generally allied with Governor Bill Walker, and the Republican-led Senate.
The budgeting process remained challenging as the state's long-running economic recession continued. Although budget deficits were reduced from the 29th Legislature, they remained daunting in the face of depleted reserve accounts. With the Senate and the House minority opposing new revenue measures, negotiations on restructuring the way in which earnings from the Alaska Permanent Fund are used began in 2017, as no other option to fill the budget gap appeared feasible, even with gradual increases in oil prices. The capping of Permanent Fund Dividend check amounts to $1,100 and $1,600 in 2017 and 2018, respectively, was seen by some policymakers and Alaskans as an overreach by government into the pocketbooks of citizens.
The passage of an omnibus criminal justice reform bill (SB 91) in 2016 became the focus of the ire of some legislators and constituents who blamed reduced sentences and other structural changes for increased crime rates in population centers. Collectively, these issues generated four special sessions over the summer of 2017. The same challenges largely carried over to 2018 and became central to elections for legislative seats and the contest for governor. Ultimately, a system was enacted that provides a structured draw from Permanent Fund earnings of 5.25 percent of market value for three years and decreasing to 5 percent thereafter. Half of these funds were used for government services, thereby dramatically reducing, although not eliminating, the budget deficit.
Other enactments by the Legislature included, for example:
Establishing a statewide indoor public smoking ban.
Requiring doctors and hospitals to post prices for their most commonly performed medical procedures.
Allowing distilleries to combine their products with other ingredients, which resolved ambiguities in previous legislation that had set guidelines for craft distilleries.
Passing workers' compensation reform package that allows for electronic filing by employers, reduces administrative costs, more clearly defines "independent contractor," and provides funding to more adequately administer the workers' compensation system.
Beyond the Legislature
The United Kingdom invokes Article 50, beginning the formal two-year process of exiting the European Union
Hurricanes Irma and Maria wreak havoc and devastation on the Caribbean and Southeast U.S.
France wins the 2018 World Cup in Russia.
Apple, Inc., becomes the world's first publicly-traded company valued at over $1 trillion.
SPEAKER OF THE HOUSE
Bryce Edgmon
SENATE PRESIDENT
Pete Kelly