100 Years of Alaska's Legislature
"From Territorial Days to Today"
---
21st Territorial Legislature
---
Local Personal & Sales Tax Authorized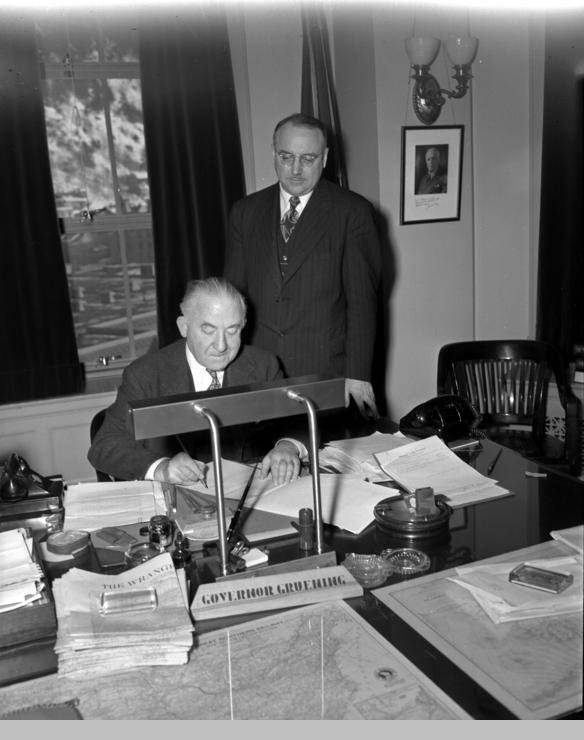 Session Information
1st Regular - January 26, 1953 - March 26, 1953

Senate Members
House Members
Community Colleges Established
The postwar construction boom peaked in 1954. Some estimate that the total expenditure for both the military and non-military expansion approached $1.2 billion for the five-year period, 1949 through 1954.
The 21st Territorial Legislature introduced 325 bills and enacted 145. Some of the more notable measures enacted by this Legislature
Established community colleges;
Established a bounty of $15 on wolverines;
Authorized local jurisdictions to collect property and sales taxes;
Allowed tobacco tax proceeds to be used for insurance on school buildings;
Created the Legislative Council;
Passed the Agricultural Loan Act, which included provisions for the Agricultural Revolving Loan Fund;
Established the Nurses Examining Board;
Prohibited the carrying of weapons by persons convicted of certain crimes;
Repealed the prohibition against selling liquor to Alaska Natives;
Repealed the bounty placed on bald eagles;
Revised the Workmen's Compensation Act; and
Created the Alaska Visitors Association.
Beyond the Legislature
Mount Spurr erupts for first time in recorded history.
An oil well drilled near Eureka on Glenn Highway is considered by some as the start of Alaska's modern oil history.
Alaska's first big pulp mill opens at Ketchikan.
Dr. Jonas Salk announces a vaccine to prevent polio.
On July 27, 1953, the U.S. and North Korean governments sign an armistice to end the Korean War. The 38th Parallel becomes the boundary between North and South Korea.
In 1954, the U.S. Supreme Court unanimously rules in Brown v. Topeka Board of Education and reverses the 1896 "separate but equal" decision from Plessy v. Ferguson.
In 1954, President Eisenhower puts forth a plan for a national interstate highway system.
SPEAKER OF THE HOUSE
George Miscovich
SENATE PRESIDENT
Charles D. Jones