100 Years of Alaska's Legislature
"From Territorial Days to Today"
---
19th Territorial Legislature
---
Net Income Tax Established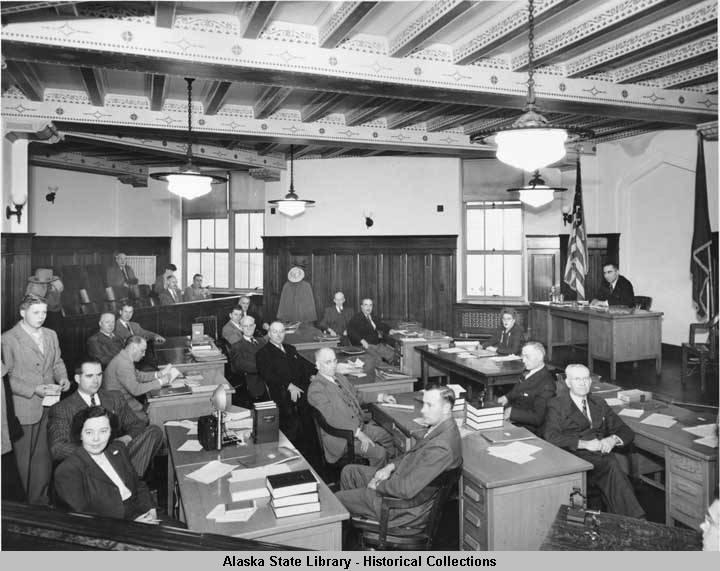 Session Information
1st Regular - January 24, 1949 - March 25, 1949
1st Special - January 6, 1949 - January 22, 1949

Senate Members
House Members
Military Spending Boom
Following the end of World War II, the U.S. Military in Alaska began transitioning to a "heartland" concept of defense whereby the vast majority of military resources would be located in Anchorage and Fairbanks. Starting in 1949, the U.S. Military began spending millions of dollars in Alaska-up to $250 million annually by some accounts-on infrastructure projects in order to accomplish this mission. This postwar defense construction boom affected Alaska, particularly in urban areas, in many ways including high prices for consumer goods, a shortage of skilled workers, and an influx of people moving from the Lower 48.
The 19th Territorial Legislature introduced 209 bills and enacted 130, the most notable of which established a general net income tax, which happened during an extraordinary session held before the regular session. This Legislature also established the Alaska Statehood Committee, an eleven member nonpartisan group headed by Anchorage Times publisher Bob Atwood, which advocated for the statehood effort through education and lobbying of national and labor organizations, newspaper editors, and state governors to support and publicize Alaska's situation. The campaign failed to make much headway during this time, however, due to the nation's focus on the Korean War. Other measures enacted by this Legislature
Required lobbyists to furnish their names and employers, register with the Territory, and pay fees to the Territorial Auditor;
Required the Alaska Housing Authority to address the acute housing shortage and housing for veterans;
Established the Alaska property, business license, and tobacco taxes;
Increased bounties for hair seals, wolves, and coyotes;
Established a bounty of $2 for bald eagles;
Created the Public Employees Retirement System;
Appropriated approximately $13 million for Territorial operations for the biennium beginning April 1, 1949;
Established the Bus Transportation Commission; and
Created the Territorial Fisheries Department and the Alaska Fisheries Board.
Beyond the Legislature
The first traffic lights in Anchorage are installed on Fourth Avenue.
Alaska's population in 1950 reaches 129,000.
President Harry Truman increases the minimum wage from 40 to 75 cents per hour.
The Diners Club card, the first modern credit card, is introduced.
The first Peanuts comic strip, written by Charles M. Schulz, appears in seven newspapers.
India becomes a republic and ceases to be a British dominion.
The first kidney transplant occurs.
Mother Teresa founds Missionaries of Charity in Calcutta, India.
Silly Putty is invented.
SPEAKER OF THE HOUSE
Stanley McCutcheon
SENATE PRESIDENT
Gunnard Engebreth