100 Years of Alaska's Legislature
"From Territorial Days to Today"
---
---
Mia Costello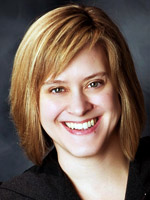 Date/Place of Birth:
Anchorage - 1968
Residency in Alaska:
Lifelong Alaskan
Anchorage (1968-'91, '99-'03, '08 to present)
Juneau (1991-'99, 03-'06)
Fairbanks (2006-'08)
Occupation:
Mother, teacher, public relations executive and Governor's staff
Family:
Spouse: Andrew
Children: Andrew and Roman
Education:
West High School – Diploma, 1986
Harvard University – B.A. in Government, 1990
University of Alaska Southeast – Master of Arts in Teaching, 1997
Other Political and Government Positions:
Governor's Office Deputy Director of Communications; Legislative aide; State Public Information Officer; Intern coordinator for U.S. Senator Ted Stevens; Governor's Outdoor Recreation and Trails Advisory Council; Governor's Council on Physical Fitness & Sports; Statehood Celebration Commission.
Business and Professional Positions:
Coach, NineStar Education & Employment Services; Teacher, Anchorage and Juneau School Districts; Public relations executive; Owner, Mia Costello Consulting
Service Organizations and Community Involvement:
Alaska Outdoor Council; National Rifle Association; Alaska Airmen's Association; Anchorage Republican Women's Club, Juneau Big Brothers Big Sisters; Masters Swimming
Other Information:
Alaska Humanities Forum Teacher Exchange to Sand Point; Co-Nect Schools Excellence in Education finalist
Special Interests:
Youth literacy, flying, swimming and camping