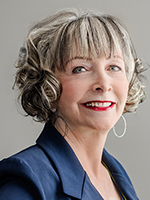 Session Contact
State Capitol Room 7
Juneau AK, 99801
Phone: 907-465-3743
Fax:

Interim Contact
600 E Railroad Ave
Wasilla AK, 99654
Phone: 907-376-3725
Fax:


Date/Place of Birth:
Residency in Alaska:
Resident of District 11 since 1990
Resident of Alaska since 1976
Resident in following Alaskan communities 1976-1990: Hoonah, Bethel, Fort Yukon, Fairbanks, Seward
Occupation:
Government Affairs Director, Alaska Primary Care Association 10/05 - 11/11
Special Projects Volunteer Director, Crossroads Community Church, Palmer 01/95 - 12/05;
Contract Academic Instructor, Mat-Su Pre-Trial Facility, Palmer Correctional Center 10/98 - 12/03;
Summer Theatre Conservatory Director, LCCP/Haines VPA/Wasilla 1999, 2000, 2003;
Substitute Teacher, Matanuska-Susitna Borough School District 09/95 - 05/97;
Fort Yukon School District Resource Center Assistant 08/87 - 05/88;
Data Coordinator/Secretary, Phillips Alcoholism Treatment Center, Bethel, Alaska 11/85 - 11/86;
KYUK Newscaster, Volunteer, Bethel, Alaska 09/85 - 05/87;
Teacher, Mount Bethel Christian School, Hoonah, Alaska 09/76 - 09/81;
Proud Stay-at-Home Mother of 4 (interspersed with contracts and part-time work) 1980 - 2003
Family:
Husband - Roger (married 38 years)
Children - Peter, Clara, Emily, and Tyler
Grandchildren - Keithan, Caden, Noah, Owen, Avelyn
Education:
University of Alaska, Bachelor of Arts in English, 2002. Summa cum Laude. Rhetoric.
Cuyahoga Community College, Assoc. of Arts, 1985. Magna cum Laude, Valedictorian. Cleveland, Ohio.
Alaska Public Health Association Health Achievement Award 2009
Betsey K. Cooke Advocacy MVP Award 2008
Chancellor's Scholar 2001
National Collegiate Mathematics Award 2002
English Department Scholarship Award Spring 2002
International English Honor Society Sigma Tau Delta
Golden Key National Honor Society
The Honor Society of Phi Kappa Phi
Military:
Alaska All Academies Association, Founder, Past-President

(support organization for cadets/plebes and families at 5 military academies)

Son and Son-in-Law: USAF Reserves, USAF Officer, Active Duty
Husband: Vietnam Veteran
Other Political and Government Positions:
Legislative Aide for Representative Gatto, Alaska State Legislature 12/03 - 01/05
Service Organizations and Community Involvement:
Alaska All Academies Association, Founder, Past-President
Alaska Outdoor Council
Commonwealth North
American Association of University Women
Resource Development Council
Make Alaska Competitive Coalition
National Rifle Association
Mat-Su Republican Women's Club
Valley Republican Women's Club
Wasilla Chamber of Commerce
Palmer Chamber of Commerce
Mat-Su Health Foundation
Mat-Su Business Alliance
Palmer Toastmasters
Palmer Lions Club
Alaska State Fair
State Agriculture and Rural Leaders - Alaska Representative
Outdoor Heritage Council
Recover Alaska
NCSL Labor and Economic Development
NCSL Redistricting and Elections
CSG Public Safety and Justice Task Force
Troop 49 Girl Scouts
Boy Scouts Bear Paw Council Nominating Committee
Mat-Su Young Life Executive Committee
Galena Young Life Executive Committee
Alaska Republican Assembly
Alaska Tourism Marketing Board
United for Liberty
NCSL UAS Partnership
Other Information:
Previous Volunteer Affiliations

Palmer Little League
Girl Scouts
Pioneer Peak PTA
Colony Middle School Band Boosters
Valley Festival of Arts
Colony High School Boys and Girls Basketball
Special Interests:
Grandchildren, Military, Church, Volunteer Work, Speed Walking*, Comedy, the Arts, Travel, Outdoors**
*I like the fact I walk so fast that I pass tall men in airports.
**My children have offered to teach me to snow board but I have not yet accepted the invitation.