100 Years of Alaska's Legislature
"From Territorial Days to Today"
---
---
Josh Revak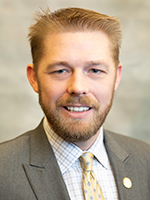 Summary:Revak was born in Minnesota. He served in the U.S. Army from 2002 to 2008 as a Battle Tank Crew Member, earning the Purple Heart Medal for wounds received in combat. He earned an M.B.A. in business administration and management from Alaska Pacific University. Revak's career experience includes working as a Military and Veterans Affairs Liaison to Congressman Don Young and Senator Dan Sullivan. He served as the Treasurer for the Abbott Loop Community Council, and the Director of the Wounded Warriors on Safari Program for the Safari Club International Alaska Chapter, which describes itself as "the world leader in preserving the freedom to hunt and is a major contributor to conservation efforts worldwide.�[2] Revak was elected to serve as the member of the Alaska House of Representatives for District 25.[3]