100 Years of Alaska's Legislature
"From Territorial Days to Today"
---
---
Kelly Merrick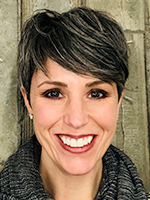 Representative Kelly Merrick is a lifelong Alaskan serving her second term in the Legislature representing Eagle River. She is a member of the Children's Caucus, Innovation Caucus, and Women's Caucus. She is co-chair of the House Finance Committee in charge of the capital budget and legislation. Her interests lie in natural resource development, public safety, fiscal responsibility, and government transparency. Some of Kelly's goals in the capitol have been to heal divisiveness, foster strong bipartisan relationships, and find solutions to move Alaska forward through tough budgetary times. Prior to the Legislature, she worked as a political staffer on both the state and congressional levels. When not in the office, Kelly can be found at sports games, the ice rink, volunteering in a classroom, or working on her next creative project. Kelly and her husband Joey have three children, Hunter 15, Brody 14, and Roxie 11, and two dogs, Kina and Sammi.